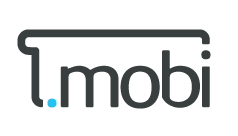 Showcase your mobile content!
Businesses of all sizes know that today, you MUST HAVE a mobile presence on the Internet. While there are lots of ways to "mobilize" your site, there is only one domain name that remains the standard for identifying mobile-friendly Web content: .MOBI
After carefully crafting your mobile website, you want your new and existing customers—and internet searchers--to know your site is mobile friendly. That's why you need a domain name that says "I'm mobile: .MOBI!"
What other benefits do you get with a .MOBI web address?
.MOBI names are designed for mobile use.
Entering long URLs is cumbersome; you need a short name for your site. Millions of great .MOBI names are still available so you can get something short and catchy!
.MOBI domains help search engines find YOU!
Search engines detect searches from mobile devices and prioritize their results accordingly. Because search engines "know" that .mobi sites are made for mobile devices, .mobi sites naturally move up the list seen by your mobile customers. Additionally, every .mobi domain gets its own entry in the Internet Zone File. This enables your site to work wherever there is Internet access, because it's part of the Internet naming system itself.
When you use a .MOBI address for your mobile website, your audience will know that your website is designed to work on a mobile device, like an Android™ tablet or an iPhone, as well as on a standard computer.